Mr. Danesh Casie Chetty
Mr. Danesh Casie Chetty is a retired senior Sri Lankan Diplomat in the Sri Lankan Foreign Service from 1970 to 2006. He has served in various capacities in Sri Lanka's foreign missions as in Japan, Yugoslavia, the USSR, India, Indonesia, the European Union, France, Germany and Malaysia.  He has represented Sri Lanka in several international delegations within his diplomatic career. After his retirement from the Sri Lankan Foreign Service, he held the Executive Director position in several Sri Lankan non-governmental organizations and think tanks…
Mr. Danesh received his initial degree from the University of Ceylon, Peradeniya with an Honours Degree in Sociology.  He previosuly served as the Director/Consultant at the Office for National Unity & Reconciliation (ONUR) and as the Chairman at the International Centre for Ethnic Studies (ICES).  He is also a member of the Board of Studies of the Bandaranaike Centre for International Studies (BCIS) and a member of the Board of Directors of the South Asia Policy & Research Institute (SAPRI)
Ms. Nishandeny Ratnam
Nishandeny Ratnam is an Attorney-at-law with a LL.B from University of Colombo and a LL.M from Ohio Northern University. She also has a master in Human Rights and Democratization from University of Sydney. She received Excellence for the Future award in the study of Comparative Constitutional Law in 2015 at Ohio Northern University. She was called to the Bar as an Attorney-at-Law in December 2011. She is elected to serve as an executive member of the Asia Pacific Master Alumni Association for Human Rights and Democratisation from Nov 2019 to Nov 2021.
With more than ten years professional experience in legal and development sector her interests and expertise varies with human rights, rule of law reforms, democratic governance, transitional justice and anti-corruption initiatives.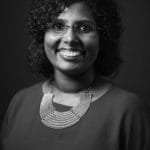 Ms. Iromi Perera
Iromi Perera is a Colombo based researcher and activist. Her research focuses on Sri Lanka's post war development related issues, specifically evictions and forced displacement in Colombo, spatial justice, contested sacred sites, and eminent domain. Iromi joined the Board of Trustees of the Asia Foundation in January 2019 and is a part of the People's Commission on Land initiated by the People's Alliance for Right to Land (PARL) in Sri Lanka as a Commissioner. She was a Senior Researcher at the Centre for Policy Alternatives (CPA), a Sri Lankan public policy research and advocacy think tank, from 2008 – 2017 and headed CPA's survey research unit. She is also the founder and curator of the Right to the city Sri Lanka initiative; and combines research, ongoing documentation, photography and video to provide alternative narratives to the development discourse in Sri Lanka, with a focus on city making in Colombo.
In 2017 Iromi was selected as an Asia Foundation Development Fellow. She was Fulbright Professional Scholar in 2015 and was based at the Urban Institute in Washington, D.C as an Academic Visitor at the Institute's Center on International Development and Governance. Iromi has been a consultant and researcher for various organizations including the Secretariat For Muslims and the Law and Society Trust in Sri Lanka, the International Crisis Group, UN-Habitat, and UNDP. She has a Bachelor of Arts degree in Psychology, Sociology and Economics from Christ College, Bangalore and a Post Graduate Diploma in Development Studies from the Faculty of Graduate Studies, University of Colombo.