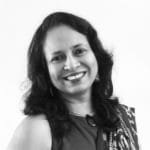 Executive Director
Shyamala Gomez is a human rights lawyer by training and has over twenty years experience as an academic, researcher and activist. She has an LLB from the University of Colombo and a Masters in Law from Georgetown University, Washington DC.  She has published in the areas of violence against women, masculinities, sexual violence in conflict, migrant workers rights, women's land rights, reproductive rights and on women, peace and security.
Email: shyamalagomez.ed@cejsl.org
Finance Manager
Uthpala Madurasinghe is a passed finalist of CIMA and holds 20 years of experience in the finance sector out of which 13 years are work experience in the INGO and NGO sector.
Email: uthpala.finance@cejsl.org
Senior Programme Officer
Letchumanan Kamaleswary holds a BA in Sociology from the University of Peradeniya and a Masters in Development Studies from the University of Colombo. Kamaleswary has over 10 years of experience working on women's rights.
E mail: kamali@cejsl.org
Senior Project Coordinator
Ando Anthappan holds a BA in Social Sciences from the Open University of Sri Lanka and a Masters in Human Rights and Democratization from the University of Colombo. She has over seven years of experience in the development sector.
Email: ando@cejsl.org
Project Officer
Vibusha K. Madanayake is a graduate of the University of Colombo with a Bachelor of Arts (BA) specializing in International Relations and a Masters in International Relations (MA) from the University of Colombo. She has volunteered in youth development with several volunteer organizations during the past nine years.
Email: vibusha@cejsl.org
Office Assistant
Communications Officer
Vinusha Paulraj holds a MA in International Security Studies from the University of Leicester and an LLB from the University of London. She has ten years of experience in the field of journalism, media, and communications.
Email: vinusha.comms@cejsl.org
Finance Assistant
Irosha Karunanayaka is partly qualified in AAT and carries 8 years of government and private sector experience in the Finance field.
Email: financeasst.cej@gmail.com
Junior Project Officer
Sudeepa Gunaratne holds a MSc in Equality Studies from University College Dublin and a BA in English (Hons.) from University of Sri Jayewardenepura. She has over 5 years of experience volunteering and working in the development sector.
Email: Sudeepa.cej@gmail.com
Project Assistant
Yureshya Perera is an alumna of the University of London and holds a BSc in International Relations. Her advocacy and project management experience is built in different areas such as gender, psychosocial service sector, elders with disabilities, LGBTIQ community and the Sri Lankan education system. She has over four years of work experiences across diverse domains such as project management, communication, research and content writing.
Email: Yureshya.cej@gmail.com