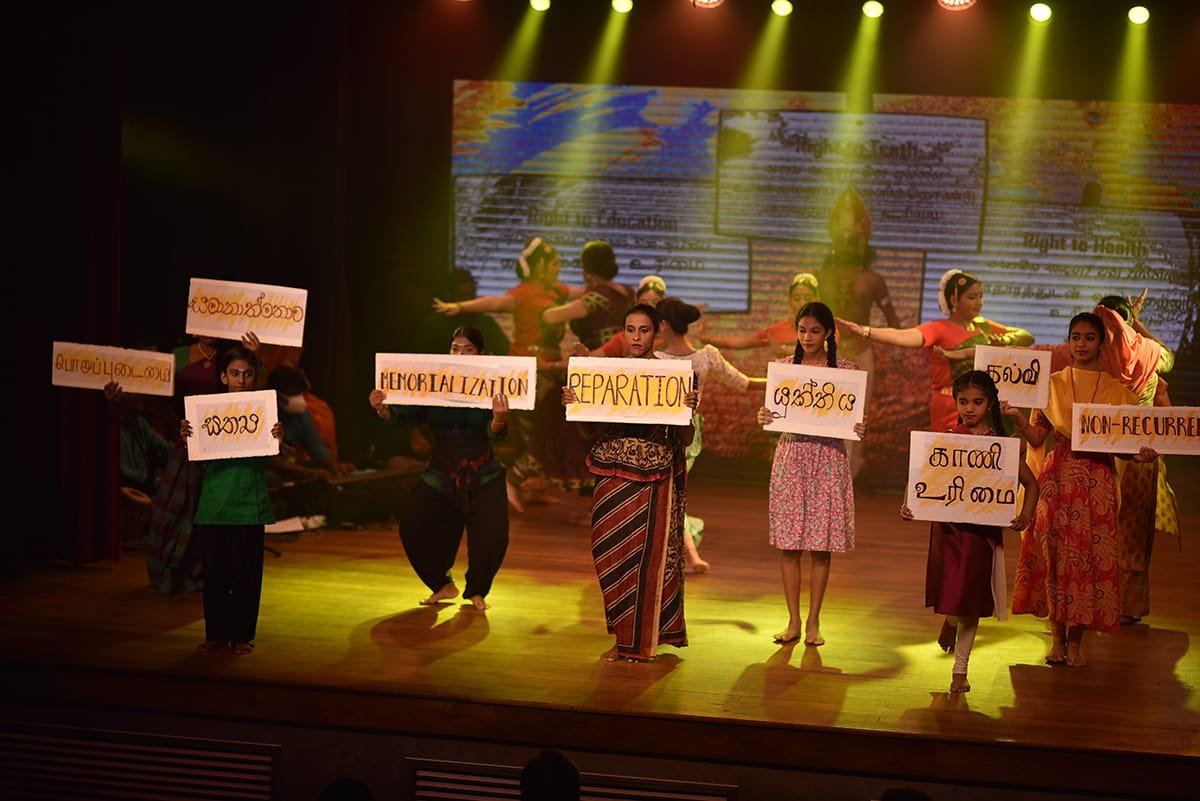 Taking a non-traditional approach to convey the message of 'Women and Reparations', CEJ staged a ballet performance, the first of its kind, on the 03rd of December 2021 at Sri Sambuddhathva Jayanthi Mandiraya, Colombo 05.
Her Excellency, Ms. Tanja Gonggrijp, Ambassador of the Netherlands to Sri Lanka, Ms. Kelly McCarthy, representative for the Ambassador of the United States for Sri Lanka, Ms Doris Manor, representative for the Ambassador of Switzerland to Sri Lanka, Mr. Andrew Gray, Deputy Chief of Mission of the International Organization for Migration, Mr. Daniel Bood, Senior Research Officer of the Right to Information Commission of Sri Lanka and Ms. Sadhani Rajapakse, representative for the Office of the UN Resident Coordinator of Sri Lanka attended the performance. Further, Mr. M. M. P. K. Mayadunne, Secretary of the Ministry of Justice and Ms. Jananee Chandramohan Arun, representative for the Chairperson of the Office for Reparations, along with representatives of national, international and non-governmental organisations and think tanks such as Sri Lanka Sumithrayo, National Peace Council of Sri Lanka, Verité Research and Search for Common Ground, Sri Lanka graced the occasion as distinguished invitees.
Organised under a project supported by Legal Action Worldwide, the main objective of the ballet was to convey the message that reparations can be asked for by all three communities and those affected by war and political violence are eligible for reparations.
The ballet script was developed by CEJ based on real life stories of women of Tamil, Muslim, and Sinhalese communities who were affected by war and political violence, gathered through CEJ's research studies and discussions with community women. The ballet was choreographed using various dance and music styles of all three communities.
Composed and choreographed by the celebrated dancer, choreographer and member of the Dance and Ballet Panel of the Ministry of Culture, Sri Lanka, Natya Poorna Kalaichelvi Ms. Nirmala John, the ballet was performed by students from her dance academy "Nirmalanjali".
The performance was followed by a discussion moderated by Ms. Thyagi Ruwanpathirana, Acting Research Director for the South Asia Office of Amnesty International.